So, I have become mildly obsessed with the Temeraire Series (I'm presently just starting book 5, so good OMG), and I desperately want a crossover fic where Sam gets turned into a dragon and Dean is his captain. SOMEONE MAKE THIS HAPPEN. YESTERDAY, PLEASE. I don't even follow SPN fandom anymore, but I WANT THIS.
(
show
Collapse
)
In non-spoilery news. JARED AND JENSEN ARE SOOOOOOO BFF.
Jared: Jensen's got a big old crush on me, and so I just sort of try and play off it. And you know, I've told him many times, nothing's gonna happen, y'know, I'm not like that, but he's really into me, and so I can just kinda play off it.
THEY ARE THE GREATEST BOYS EVER.
I spent the morning beta reading not one, but two fabulous fics. Yay!
Since neither are posted for me to direct you to them, have some other fabulous fics:
Supernatural
In the valley of the shadow
by
fleshflutter
. Sam/Dean/Madison/Jess, and variations thereof. OMG SO CREEPY. I think Fleshflutter is some sort of evil genius and everything she touches turns to gold, and this is no different. Seriously, even if you're not into Wincest, I'd say check this out, because it's really, really amazing (and short, clocking in at just over 1000 words, but man, this packs a punch). NC-17
RPF
Wasted on the Young
by
memphis86
and
causeways
. J2. Ahahahaha. Jared gets hypnotized into thinking he's five years old and Jensen has to take care of him. SO CRACKY AND FUN. I'm not usually a fan of the one-of-the-boys-is-gay-and-keeping-it-fr
om-the-other-trope, but here it doesn't matter. Utterly charming.
Gilmore Girls
this town is a song about you
by
femmenerd
. Rory/Dean. Rory and Dean married and grown up and sexy and wholly believable. YES PLEASE.
The Office
in which buffy the vampire slayer makes dwight cry
by
biggrstaffbunch
. Jim/Pam, Pam/Dwight/Jim friendship. The dynamic between the three of them is fantastic, and this is both funny and touching. I also love how Jim and Pam taking care of Dwight and his sad little broken heart makes them closer.
*
My own writing is sort of stalled. I am determined to finish my
abouttwoboys
fic even though it's being uncooperative, and I'm feeling rather manic about it. I like it, then I hate, then I love, then I'm indifferent. I think I should probably get a second opinion.
*
A poll. It's a little early, seeing as how Wincon is nine months away, but indulge me, please.
Do you think you might head to Wincon '08?
YES. A THOUSAND TIMES YES!
2
(
14.3
%
)
Most likely
8
(
57.1
%
)
No
4
(
28.6
%
)
Buzah?
0
(
0.0
%
)
*
Alright, I'm going to go watch Folsom Prison Blues and eat pudding instead of do school work or write.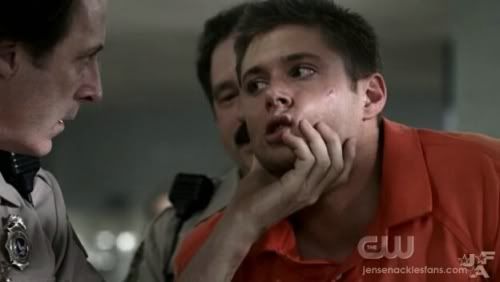 But really, would you do work when you could instead watch Dean get manhandled in an orange jumpsuit? I THINK NOT.
*
Also, Sweet_Charity raised over 19,000 dollars. How awesome is fandom?
HAPPY SUNDAY.
It's three PM and I JUST washed my face and brushed my teeth today. YAY for being the laziest thing to laze since sloths were invented.
Current Location:

couch

Current Mood:

listless